Use Xpert Leave Management to cut your staff admin, boost your productivity, and make your business a post-lockdown success.
Approve holiday requests, log sick leave and plan rotas—all from your mobile. Track staff work hours and boost your team's output with our smart clocking app.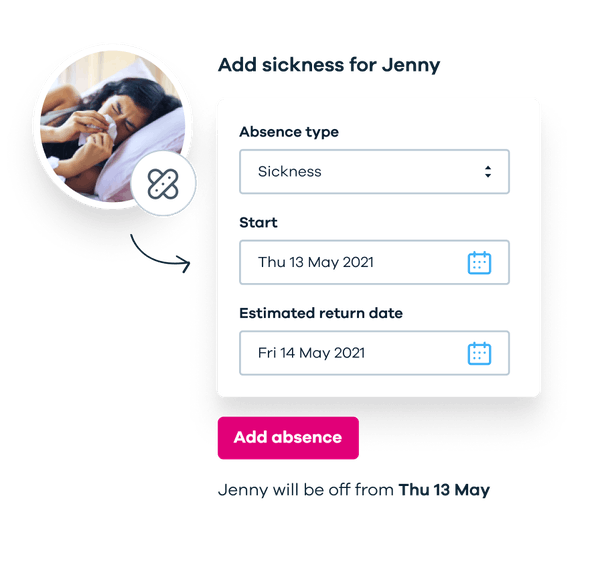 Our smart work rota software removes the headache of planning staff shifts and lets you publish rotas online in minutes.
Create a single rota, or several at once, in record time—every time.
Not at your desk? Not a problem. Manage work rotas on the go with the shift planner app—and notify your staff instantly.
Be confident your people know where to be and when. No more excuses someone didn't see that shift swap…
Stay organised with accurate records of previous and upcoming staff rotas and save them in your unlimited cloud storage space.
Reclaim your time to do what you do best—running your business.
Keep track of who's had the COVID-19 vaccine in your business with our exclusive online tool.
Update your employee profiles to easily record who's had the COVID-19 vaccine.
Download regular reports to see exactly who's been vaccinated, so you can keep your people safe during the vaccine roll-out.
Download professional letter templates to encourage your staff to have the vaccine.
Access our exclusive vaccine awareness course. Share it with your staff to educate them on the vaccine and answer any complex questions.
Issue exclusive VaccTrak passes to staff to save in their smartphone wallets, so they always have quick and easy access to vital information.
Record proof of employee vaccination in VaccTrak, and store any supporting documents in your unlimited document storage.
The brand-new hub that helps you manage all your back to work processes in one place.
Use our rota planner to easily set up staggered shifts in line with government guidelines.
Get clear guidance on carrying out a COVID-19 risk assessment and download free templates to use as your own.
Store all your furlough letters and back to work documents in unlimited cloud-based storage.
Access a complete library of health & safety guides, templates, videos and online training courses.
Use VaccTrak to help you get a clear view of who's had the vaccine in your business and who's still on the waiting list.